Jersey is not as difficult as many sewers think. Watch this clip from one of my Free Videos.
See more useful clips and All My Jersey Patterns on my New Sewing Jersey Page
---
Catch up with News of The Great British Sewing Bee Contestants. How did they fare in Episode 2?
The first Episode featured a simple Sleeveless Top. Here is my version. It's Free. A great first pattern for novice sewers.
Episode 3 will feature Stretch Fabric, T-Shirts and Leggings. I have great Tutorials and Patterns for Jersey.
---
I produce the Easiest PDF Sewing Patterns. I have developed the best Sewing Pattern Downloads. No trimming, no overlapping, no wasted paper. No muddle of lines for every size. 27 Classic Patterns to download.
All my Sewing Patterns are drafted separately for sizes 6-22. I have layouts for International A4 and US Letter paper size.
Sewing Patterns have never been so easy. Free Pattern
---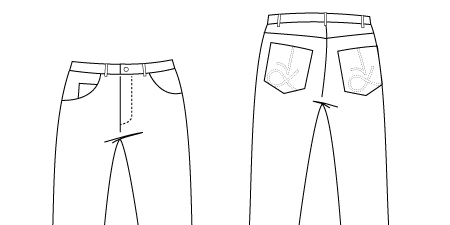 ---
MAKE YOUR OWN CLOTHES - My In-depth Tutorials are detailed and easy to follow. I make a range of garments from beginning to end - from fabric and cutting out, right through to completion.
---
JUST ADDED! FITTED BODICE DRAFTING EBOOK
I have written FIVE Sewing eBooks. The first describes every step of Making Jeans. The second features Making the Roll Collar Coat. Now I have added 3 Drafting books.
Around 60 pages of written instructions and detailed diagrams for you to download and keep for reference.
---
Pattern Drafting
Flat Pattern Drafting - Video Series and eBooks - The Basic Bodice, the Straight Sleeve Draft and the Fitted Bodice Block.
New Video - Manipulating Darts. See how this creates design potential.
---